Ajahn Anchalee Thaiyanond
Born: 1945, Bangkok, Thailand
Education:
Georgetown University (ESL), Washington D.C., U.S.A.

Université de Grenoble, Grenoble, France

Ecole La Fontanelle Des Jeunes Filles, Vevey, Switzerland
Chulalongkorn University, Thailand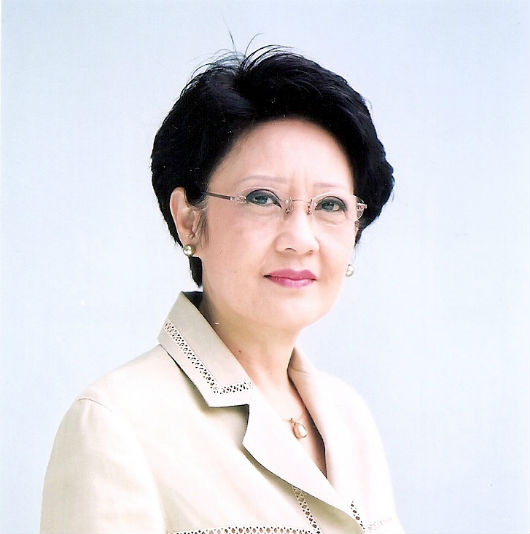 Ajahn Anchalee Thaiyanond had never been interested in religion, merit-making, or observing the rules of moral conduct. It was by coincidence that she had read one of Luangpor Teean's books in 1984 and became interested in his teachings. What impressed her most was Luangpor Teean's teachings about thought which was the cause of suffering. He had a clear method of practice, known as the method of developing awareness-mindfulness. Awareness can eliminate thought and defeat mental formations from the start. She found that it was very interesting to try this form of meditation.
Ajahn Anchalee went to see Luangpor Teean on 2nd October 1985 and started to practise developing awareness under his guidance on that day. After only an hour of practice, Ajahn Anchalee was able to gain self-realization and understand the first stage of Ārammaṇa Vipassanā the Ārammaṇa Rūpa-nāma. She then continued the practice in her daily life without failing to develop awareness even for a single day.
The more she practised, the more paññā she achieved. She was astonished at her knowledge of insight. This made her feel highly respectful and faithful to Luangpor Teean more and more each day. After four months of practice, she was able to know and understand the process of thought and mental formations, and finally was able to defeat them. Thus, she attained the State of "Kerd-Dab".
One day in 1986, Luangpor Teean asked Ajahn Anchalee to give a Dhamma talk before a gathering of practitioners at Wat Sanamnai. Initially, Ajahn Anchalee refused to speak, because she did not want to talk or teach the Dhamma at all. But once Luangpor Teean had requested that she speak, she felt that she had to obey him. That was her first Dhamma talk in the public. She gave Luangpor Teean her word that she would teach the Dhamma after he passed away.
Many times, Luangpor Teean asked Ajahn Anchalee to help him write some articles, such as "Samatha-Vipassanā" and to check that the contents in the sheets which came from his Dhamma talks in the cassette tapes were correct before they were sent to the publishing house. That was because in the past, some people had changed his words without asking or informing him. They assumed that Luangpor Teean had used the wrong words as he was uneducated and did not speak standard Thai fluently.
In 1999, her booklet "Against The Stream Of Thought" was reprinted by the Buddhist Association of the United States. It was used as a handbook for practitioners.
In 2004, Ajahn Anchalee was one of fifteen women who received the Outstanding Women in Buddhism Award in honour of Buddhist women's accomplishments on the United Nations' International Women's Day.
In 2008, her second Thai version "Against The Stream Of Thought II" was published.
In 2016, Ajahn Anchalee's English version "Against The Stream Of Thought II" was published. Anyone who is interested in Luangpor Teean's Dhamma talk, but found it too hard to understand, must read this book. Ajahn Anchalee has taught awareness-mindfulness meditation to Thai and international practitioners. These individuals, interested in practising awareness-mindfulness meditation, came from all over the world: the United States of America, Singapore, China, Taiwan, Brazil and Germany. They were eager to see Ajahn Anchalee in Bangkok, to ask for her advice and practise awareness-mindfulness meditation under her guidance.
Years after returning home, many of these students still keep in touch with Ajahn Anchalee and seek her advice. One of them said, "We have been in good hands since we met Ajahn."
Another one said, "You are wonderful! I believe that you speak from your own experiences."
As time passed, increasing numbers of people grew interested in practising awareness development according to Luangpor Teean. Unfortunately, many of his teachings had become distorted and unclear. For these reasons, Ajahn Anchalee was asked by some close lay disciples and the son of Luangpor Teean to come out and speak about what she knew, what she had seen, and what she understood in accordance with Luangpor Teean's teaching. They believe in Ajahn Anchalee's knowledge because Luangpor Teean had said to them, "Khun Anchalee knows and understands Dhamma." They want her to bring forth for them which of Luangpor Teean's teaching are true, and which of his teaching have been distorted and misunderstood by the teachers or the writers.
To protect the teachings of Luangpor Teean not to be distorted or misunderstood, Ajahn Anchalee decided to teach the Dhamma and answer questions related to the Dhamma according to Luangpor Teean's teaching via the Paramattha-sacca website.
For Ajahn Anchalee, developing awareness is so worthy that nothing can compare with it. Awareness will work out by itself and lead us to the end of suffering. This is Ajahn Anchalee's opinion:
"For all mankind, nothing is more important than liberating ourselves
from suffering."